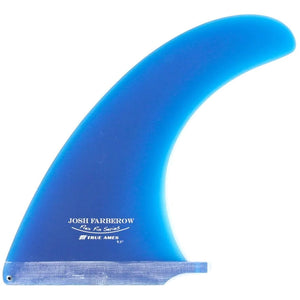 The Farberow Flex came to fruition when Josh Farberow, a true maestro who surfs with surgical precision, came to us with a request. He asked if we might be able to take our iconic California Classic template, and foil it out to give it a powerful and performance-oriented level of flex. 
Farberow–a key player in the early '90s longboard resurgence and fixture in the Malibu surf scene–surfs insanely well both off the top and bottom of the wave, excels at critical turns in the pocket, and has timeless noseriding skills to boot. This fin is well-suited for Josh's performance-style longboard surfing in right-hand point breaks, and its extra amount of lively spring and energy can truly enhance your surfing capability too. 
The medium body, combined with both the rake and the fine-tuned flex in this design will provide you with stability you can depend on, confidence through smooth flowing turns, and an added amount of power and projection. No wonder it has become a customer favorite in our collection!
Like the California Classic, but more foiled and with more flex

High-performance design excels when turning, noseriding, and trimming…This fin does it all.


Solid fiberglass construction, flat matte finish