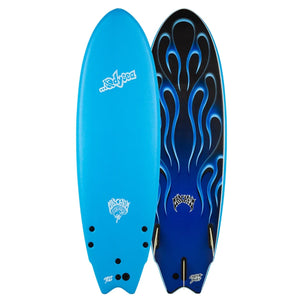 The world's all-time best selling fish model is now soft! Legendary ...lost Surfboards shaper Matt "Mayhem" Biolos and Catch Surf joined forces to re-create his master shape in our technology. The iconic 5'5" Round-Nose Fish (RNF) is designed for a wide range of performance in varied surf; while offering easy paddle and forgiveness to make you look good. Shred hard, stay soft!
6'5" x 21.5" x 3.0" (56 Liters)

...Lost's iconic shape by Matt "Mayhem" Biolos

Central concave and vee out the tail
Winged swallow tail with thruster (tri) fin setup

Stiff dual composite core

Triple (x3) maple stringers

Durable HDPE graphic slick bottom

Hi-Performance removeable fin system with leash plug
Shipping: $85 to California, Oregon, Washington; $175 to the rest of the contiguous US.