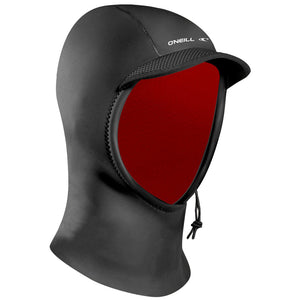 Cut down on cold flushes with O'Neill's 1.5mm Psycho Hood. Tucked under your wetsuit's neck, it seals out more water than a "squid lid" type of hood will.

A little lighter and less restrictive than the 3mm Coldwater Psycho Hood. Suitable for water temps above ~54 degrees F. 
Thickness: 1.5mm
Entry: Pullover
Neoprene: TechnoButter
Seams:

 

Glued and Blindstitched

Lining: Firewall 
Exterior: Smoothskin
Trimmable visor

Ergonomic fit
Adjustable cinch seal

O'Neill wetsuit hood size chart here.
Wetsuits and wetsuit accessories are a non-returnable item.