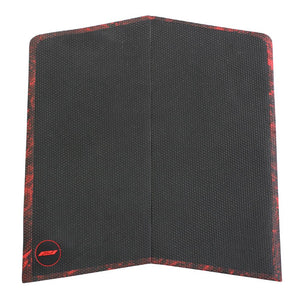 After winning the Biggest Air at Stab Mag's 2018 Stab High wave pool event, California surfer Eithan Osborne's star has been steadily rising. We're not sure how the magazine influenced the traction pad, but we do know that the end result is a good one.
Pro-Lite's Micro-Dot traction surface is here presented in a flat profile—none of the pyramid-topped bumps that we are used to. If you think that sounds good, then you should get one of Eithan's signature front pads, and probably the matching tail pad to go along with it.
Like all Pro-Lite traction, Micro-Dot gives endless traction through tons of surface area and increased grip when wet.
2-Piece
412mm L x 380mm W 
Kick: Flat
Arch: Flat
Micro Dot Flat
Easy on your knees

Increased wet traction