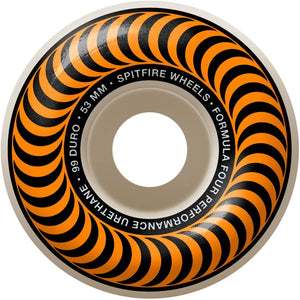 Spitfire's Formula Four urethane gives unmatched abrasion resistance for fewer flat spots and smooth, anti-stick sliding. You get more controllable grip, and lasting speed. Formula Four is engineered for more speed and control on all surfaces and unmatched flat spot resistance. The high-rebound compound gives a smooth, anti-stick slide
The Classic shape is the most loved in skateboarding: proven for speed, control, and versatility.
Pack of four.
Bearings not included, purchase here.
Durometer: 101A
Diameter: 53mm
Width: 33.5mm
Contact Patch: 16mm
Compound: Formula Four