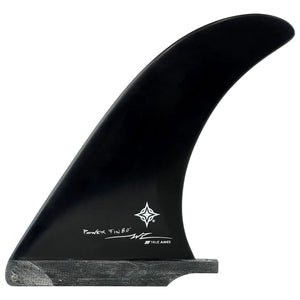 The Wayne Rich Power will perform exactly as it sounds–it's a true powerhouse for your surfboard. Coming hard off the bottom, building speed, and harnessing increased projection out of turns are what this fin is built for.
Born and raised in Hermosa Beach during the 'Golden Era' of South Bay surfboard building, Wayne Rich learned how to shape from some of the industry's greats. He then moved up to Santa Barbara, where he continued honing his craft, specifically for the waves in the region.
It's always a pleasure working with Sensei Wayno–he's got a keen eye, loads of knowledge, and an affinity for creating designs that work exceptionally well. Throw the Wayne Rich Power in a 2+1 setup and you'll be able to experience the added power that this fin is able to generate. With the full base, solid foil, calculated area distribution, and stiff flex of this fin, your board will always feel like it's got a full tank of fuel. 
Minimal flex and full foil for maximum power

Solid fiberglass construction, gloss finish

6"

 to 8" sizes are great for 2+1's in solid surf