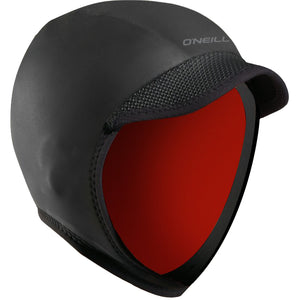 A great hood, versatile and very comfortable. Keeps the ice cream headaches away without restricting your movement. The image is misleading, but there is a chinstrap, it's just part of the hood.
Thickness: 3mm
Entry: Pullover
Neoprene: TechnoButter
Seams:

Glued and Blindstitched

Lining: Firewall 
Exterior: Smoothskin
Trimmable visor

Ergonomic fit
Integrated, comfortable chin strap
O'Neill wetsuit hood size chart here.