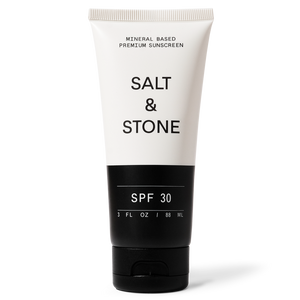 Salt & Stone SPF 30 Sunscreen Lotion is a lighter-feeling, yet quite effective sun ray blocker. Using Hyaluronic Acid (a natural moisturizer produced by our bodies) to soothe and moisturize, and Non-Nano Zinc Oxide to block UVA + UVB rays, this 'screen is rated as highly water resistant. Like all sunscreens, you should reapply after 80 minutes in the water.
Salt & Stone focuses on natural, organic, cruelty-free ingredients to create safe formulas that are extremely effective without the use of unnecessary or harmful components.
Salt & Stone's ingredients are grown without the use of pesticides and produced using renewable energy sources, ethically and sustainably. Artificial fragrances, sulfates, petrochemicals, parabens, phthalates or GMO's are never used.
INGREDIENTS: Zinc Oxide (Non-Nano) 22%, Aloe Barbadensis Juice, Cera Alba (Beeswax)*, Cetearyl Alcohol, Citric Acid, Cocos Nucifera (Coconut) Oil*, Glyceryl Stearate, Helianthus Annuus (Sunflower) SeedOil*, Hydroxyethylcellulose, Phenoxyethanol, Simmondsia Chinesnsis (Jojoba) Oil*, Sodium Citrate, Sodium Stearoyl Lactylate, Stearic Acid, Theobroma Cacao (Cocoa) Butter*, Tocopherol (Vitamin E)*, Vanilla*, Vitellaria Paradox (Shea) Butter*, Xanthan Gum.

*Organic Ingredient